Friends of Bready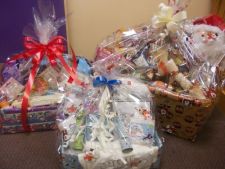 Fundraising for ICT Suite
Friends of Bready are a parents and community group who aim to support the children of our school and the community through the following activities:
fundraising for school and community
organising events to be enjoyed and involving all ages young and old
helping the school as volunteers
community development and liaison with other community groups
All parents and community member who wish to join and support us are welcome. We expect that any member who will be in direct contact with the children are vetted for Child Protection.
Watch out on our noticeboard for future events.
Latest News
LADIES PAMPER NIGHT
Friends of Bready Jubilee held their second fundraising night of the year in the form of a Ladies Pamper night held in Bready Cricket Club on Wednesday 16th March. Students from North West Technical College attended to give treatments such as mini facials, back/shoulder massages, nail painting etc. Reflexology and Indian Head Massages were also provided at an extra cost. Rosemary Wright from Ashburn Image, Eglinton also attended to give a talk on applying make-up, cleansing, toning etc and ended with a make-up demonstration on her daughter. Aloe Vera, The Body Shop and Avon all had stalls promoting their services. Everyone attended received glass bubbly or shloer and nibbles on arrival. The evening was enjoyed by all and we raised £233.80 for school funds. A big "thank you" to all who made the night enjoyable by supporting us once again.
Diane Monteith (Secretary FBJ)
VALENTINES DISCO
The Friends of Bready Jubilee held their first fundraiser of this year on Thursday 11th February in the theme of a Valentines disco. Children from P3-P7 were greatly entertained in the school assembly hall by professional DJ Jude Proctor. Jude proved to be a fantastic entertainer, playing a range of chart hits and modern country music. He really got the crowd going by this energetic performance and giving out spot prizes throughout the disco. Refreshments such as muffins, crisps and juice were provided by FBJ. To keep the younger children entertained, Doreen from Jo Jingles provided fun, age-related games and activities in the school foyer. Entry into the disco was £2 and with 94 pupils in attendance, £188 was raised for school funds.
We would like to thank everyone involved in organising and running the disco and to parents for bringing their children along. Thanks also to those who supplied the refreshments and decorated the hall. A special big thank you to Jude and Doreen for doing such a brilliant job and giving the children such a fun time.
Diane Monteith(Secretary FBJ)
Bready Jubilee Primary School, 12 Cloghboy Rd, Bready, Strabane BT82 0DN | T: 028 7184 1319