Sensory Garden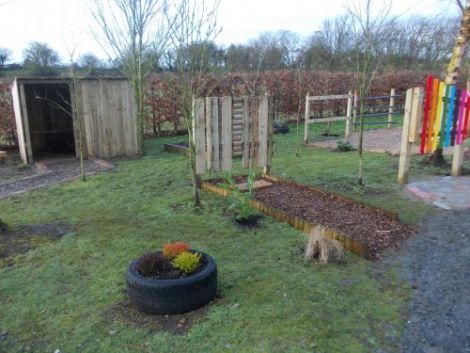 SENSORY GARDEN
When the children were on their half term holidays it was all hands on deck with the construction of our new Sensory Garden. The work took place between Tuesday and Saturday from 10am to 4pm. The weather was not exactly favourable for outside work but the hardy volunteers soldiered on to get the garden complete before the children came back to school. For anyone who has seen the final outcome, I think you will agree that a fantastic job was done, especially when you consider that no heavy machinery was used just good old fashioned elbow grease!! The new garden is packed full of interesting zones that include musical areas, rock and log piles, tyres and planters, a mud pit, a fire pit with surrounding seating, a 'den', crazy paving, textured paving stones, bark and gravel surfaces, a bird bath and crawl tunnel. The existing raised beds were removed to be relocated at a later date closer to the poly tunnel. A herb garden, wild garden and willow arch are also features. When the weather gets better the area will be re-sown with grass seed adding the final touch.
A great big thank you needs to be given to all the volunteers: Adrian Preston, James Preston, Simon Preston, Raymond Monteith, Gusty Kee, Stuart Thompson, David Thompson and Rosalind Young. Sara Monteith, Hannah Young and Corine Young, all pupils at the school all helped as well. THANK YOU all of you for giving your time and doing such a great job that will be enjoyed by the school and community for many years to come.
Diane Monteith (BJPS Gardening Club)
Christmas Tree Farm Adventure
On Wednesday 26th November, Mrs Gregson and her P3/P4 class, along with two helpers travelled to the Christmas Tree Farm in the townland of Carn Na Coille on the Ballygudden Road outside Eglinton village. The farm is run by husband and wife team Gerrard and Rosemary O'Donnell. The farm has been in operation since 2000 and supply Christmas trees to Stormont, Derry City Council, various village associations as well as to numerous private households every year. For every tree they sell they donate £1 to either Marie Curie or Foyle Hospice. Last year they donated £12000 to these charities.
The children travelled by WELB bus to the farm this morning arriving approximately 10.30am. First of all Rosemary gave a short talk on how the farm works. They have between 30 and 35 thousand trees on the farm all of which are looked after by a small number of staff. Every year, each tree has to be manually trimmed with a long knife to keep them in the cone shape we all know Christmas trees to look like, either that or they are cut with secataurs to stop them growing out of shape. This process is carried out between May and July each year. To stop the grass growing up between the trees, Shropshire sheep are allowed to graze the pastures. These are the only breed of sheep that will not eat the bark or branches off the trees.
After the talk we all boarded a trailer pulled by a tractor to be shown around the farm. Trees of all sizes were observed by the children and when we got to a pasture where the trees were about 7 years old we were allowed to walk amidst the trees. Here Brian, one of the employees, used a chainsaw to cut down a tree. We then took the tree back to the farm where we were shown how to put it into a net and attach a stand. The children were given some fir cuttings to take back to school which they will use to make a Christmas display in the classroom.
Rosemary had then very kindly put on tea for the adults and crisps, biscuits and juice for the children. We all got back on board the bus about 11.45 to travel back to school in time for dinner.
The children and adults alike had a very good time at the farm, but I feel the children could have stayed on to play hide and seek through the trees. We hope this will become a yearly event for the school, with a different class going each year.
Diane Monteith
Bready Jubilee Primary School, 12 Cloghboy Rd, Bready, Strabane BT82 0DN | T: 028 7184 1319